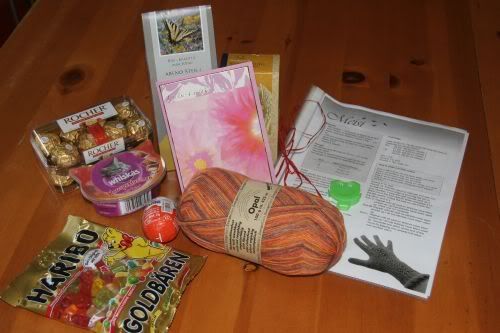 Andrea war meine Knit'n'Sip Partnerin und hat mich reich beschenkt. Neben zwei Tees habe ich die wunderschöne Handschuhanleitung "Meisi" von Julia  bekommen, außerdem eine Opal Ambiente in schönen Orangetönen, Ferrero Rocher (die ich gleich verstecken werde und danach das Versteck vergessen werde, da sie zu meinen wenigen süßen Leidenschaften gehören). Auch Lisa und Lissy wurden bedacht! Und dann muss Andrea wohl einen Spion gehabt haben, anders kann ich es mir nicht erklären, dass sie wußte, dass noch kein Reihenzähler in meinem Besitz weilt! Vielen lieben Dank, Andrea! Du hast mir eine große Freude gemacht!!
Auch ein herzliches Dankeschön an Kiki und Lena fürs erneute Organisieren!
Andrea was my Knit'n'Sip pal and she sent me this beautiful package of goodies. Besides two different teas I got this beautiful glove pattern  "Meisi"  by Julia , some Opal Ambiente, Ferrero Rocher (which is one of the few chocolates I really love, and I am not too much into sweets). Even Lisa and Lissy got treats! And I don't know which spy informed Andrea that I haven't been an owner of a row counter up until today. Thanks so much, Andrea!
And thanks to Kiki and Lena for organizing Knit'n'Sip once again!
* Using the expression "drumrolls please" always reminds me of our family favorite Chirstmas movie "National Lampoon's Christmas Vacation". Each year we start the holiday season with a family viewing of that movie and every year I am laughing out loud when the house finally glares with its decorations and the neighbors trip the steps 😉