Stulpen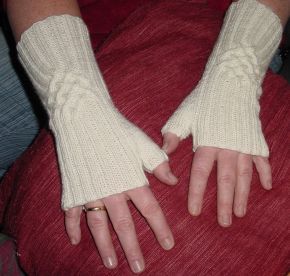 Material
6-fädige Sockenwolle ca. 75 gr
Nadelspiel Nr 3-3,5
Grundmuster
2M re 2 M li im Wechsel
Linke Stulpe
60M anschlagen und zur Runde schließen. 30Rd im Grundmuster stricken, danach über die ersten 30M die Zopfraute nach Chart arbeiten.
Nach ca. der Hälfte des Charts mit den Daumenspickelzunahmen beginnen. Dafür in jeder 3. Rd 8x nach der 58.M und vor der 1.M je eine M zunehmen. Die zugenommen M und M 59 und 60 glatt rechts stricken. 3Rd nach der letzten Spickelzunahme die Daumenmaschen (= 18M) stillegen. Zwei neue M anschlagen und ca. 10-15 Rd im Grundmuster fortfahren. Alle M mustergemäß locker abketten.
Daumen: Zu den stillgelegten M aus dem Querfaden vor dem Steg eine Masche herausstricken, aus dem Steg 2M und aus dem Querfaden nach dem Steg eine M auffassen (=22M). 6 Rd glatt re stricken, dabei in der 2. Rd. oberhalb des Stegs eine überzogene Abnahme (M wie zum rechts stricken abheben, nächste M stricken und die abgehobene M darüberziehen) stricken und 2 M re. zus. stricken (=20M).
3 Rd. im Grundmuster und danach alle M mustergemäß abketten
Rechte Stulpe gegengleich arbeiten. Dafür die Daumenspickelzunahmen nach der 30. und vor der 32.M arbeiten.
Chart
Wenn man auf die Skizze anklickt, erscheint ein Popup-Fenster mit einer grösseren Version des Charts. Diese sollte gut lesbar und ausdruckbar sein.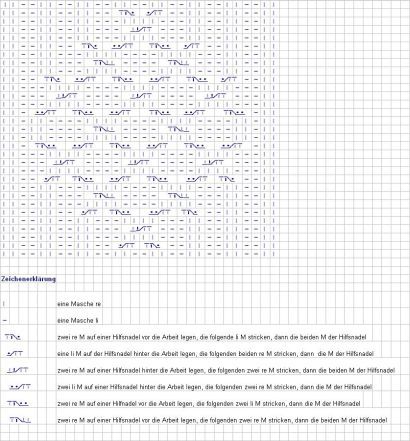 __________________________________________________
Fingerless gloves
Material:
about 3 oz. 6-ply sock yarn (I used OnLine Supersocke 6-fach, 375m/150gr)
a set of 4-5 DPN size 2-3 US, stich holder, cable needle
Basic pattern:
K2, P2
Instructions:
Left glove:
Cast on 60 sts, close to round being careful not to twist . Knit 30 rds in basic pattern. Next round start chart over the first 30 sts, knit the remaining sts in the established pattern. Approximately half way through the chart start with the thumb gusset increases, for that increase eight times in every third round one st after st 58 and before st 1. Knit all the thumb sts in stockinette st. 3 rds after last increase put the thumb sts on a stitch holder and cast on two new sts. Work 10-15 more rds in basic pattern, cast off patternwise.
Thumb: Pick up and knit held sts from thumb on needles. Pick up and K 4 sts from CO above thumb gap, and from spaces between CO and held sts. 22 sts on needles. Work 6 rds stockinette st, in rd 2 cast off two sts by working SSK and k2tog at the thumb crotch (20 sts). Work 3 rds in basic pattern, next rd cast off patternwise
Right glove:
Work as the left glove but the thumb increases are worked after st 30 and before st 32.
Finishing:
Weave in all ends.
Chart
If you click on the chart a popup window appears opening a larger scale version of the chart. If you go over this chart with the cursur you should be able to enlarge it even more. A print out of it should be readable.